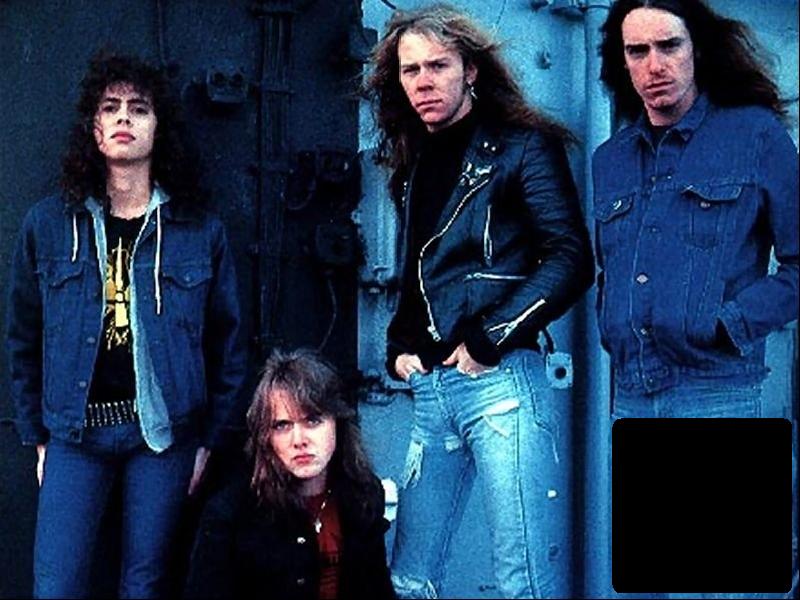 Load, ReLoad, Garage Inc., S&M

Lars Ulrich (2004)After almost three years of touring to support The Black Album, including a headlining performance at Woodstock 1994, Metallica went straight back into the studio to write and record their Sixth studio album Load. They took a break in the summer of 1995 and played 3 outdoor shows which included Metallica organizing and headlining Donington Park UK supported by Slayer, Skid Row, Slash's Snakepit, Therapy? and Corrosion of Conformity The Short Tour was entitled Escape from The studio Tour 1995. On December 13 of that year, they recorded their rehearsal for Lemmy's 50th birthday party; four Motörhead covers which was entitled 'Motorhead'achemess when it was release as part of the Hero of the Day singles collection. The band spent around a year writing and recording new songs, resulting in 1996's Load. During early production, Load was intended to be a double album. Ultimately, it was decided that it would be best to release half of the songs first, and continue to work on the remaining songs, and release them the following year. This resulted in the follow up album, ReLoad.
By 1996, with the release of Load, all band members had cut their hair (although Hammett eventually grew it back), which was ridiculed by fans, including band friends Alice in Chains, whose edition of MTV's Unplugged featured, on Mike Inez's bass, the words "friends don't let friends get Friends haircuts."
These albums represented a significant musical change for Metallica. The band's breakneck metal tempos and layered guitar compositions had largely been replaced by bluesy guitar tones and slide guitar. Several songs include the use of new instruments including the use of the hurdy-gurdy and violin in "Low Man's Lyric". The changes on Load and ReLoad had been anticipated by earlier experiments (especially on The Black Album).
Sales of these albums were lower than sales of the previous three albums. Hetfield noted later in the documentary film Some Kind of Monster that the songs on these two albums were initially thought by the band to be of only average quality, and polished and reworked repeatedly until judged to be releasable.
In 1998, Metallica compiled a double CD called Garage Inc.. The first CD contained newly recorded covers ranging from Killing Joke, The Misfits, Thin Lizzy, Mercyful Fate, and Black Sabbath to more unexpected choices like Nick Cave and Bob Seger (the band's cover of Seger's "Turn the Page" garnered extensive radio airplay). The second CD gathered together previously released covers, including the original The $5.98 E.P.: Garage Days Re-Revisited, which had become a scarce collector's item. The CD also included B-side covers going as far back as 1984.
On March 7, 1999, Metallica was inducted into the San Francisco Walk of Fame. The mayor of San Francisco, Willie Brown, proclaimed the day "Official Metallica Day" in San Francisco. A month later, on April 21-22, 1999, Metallica recorded two performances with the San Francisco Symphony Orchestra, then conducted by Michael Kamen. Kamen, who had previously worked with Bob Rock on "Nothing Else Matters", approached the band with the idea of pairing Metallica's music with a symphony orchestra. Kamen and his staff composed additional orchestral material for a number of Metallica songs and the concerts featured broad selection of songs dating as far back as Ride the Lightning. Metallica also wrote two brand new Kamen-scored songs for the event, "No Leaf Clover" and "Minus Human." The audio recording and concert footage were released later that year as the album/concert film S&M, in November 1999, on CD, VHS, VCD, and DVD.

Napster controversy

James Hetfield (2004)In 2000, Metallica discovered that a demo of their song "I Disappear" was being distributed via the Napster P2P file-sharing network. Not only was the song unfinished, it was supposed to be released in combination with the Mission: Impossible II soundtrack.
They soon discovered that in addition to the demo, their entire catalogue was freely available. The band initiated legal action against Napster, demanded that 300,000 Napster users found to be trading Metallica songs be banned from the network. Legal actions were also filed against Yale University, University of Southern California, and Indiana University for not blocking Napster from their campuses. In 2001, Metallica and Napster agreed to an out-of-court settlement which led to Napster user accounts being locked out (the band did not take legal action against any individuals for copyright infringement). This led to Lars Ulrich providing a statement to the Senate Judiciary Committee regarding copyright infringement on July 11, 2000.
The lawsuit created a public relations nightmare. Throughout the controversy, websites hosted cartoon parodies of band members, portraying them as selfish rock stars who were out of touch with their fans. The most popular of these was a cartoon parody entitled Napster Bad!, by Camp Chaos, which spawned an entire series. Critics mocked Ulrich by spelling his name as "Lar$". In retaliation to the controversy, Ulrich appeared during the 2000 MTV Video Music Awards, in a skit with that year's host Marlon Wayans, that blasted the idea of using Napster to share music. Marlon played a college student sitting in his dorm room, listening to Metallica's "I Disappear". Ulrich, playing himself, walked in and asked for an explanation. Upon receiving Wayans' excuse that using Napster was just "sharing", Lars retorted that Marlon's idea of sharing was simply borrowing things that were not yours without asking. He called in the Metallica road crew, who proceeded to confiscate all Wayans' belongings, leaving him almost nude in an empty room. Napster creator Shawn Fanning responded later in the ceremony by presenting an award wearing a Metallica shirt, saying "I borrowed this shirt from a friend. Maybe, if I like it, I'll buy one of my own".
Public ridicule was widespread as Metallica had gotten their start via underground trading of bootleg recordings of their performances. Metallica's defense was that Napster was allowing free access to their back catalogue and not live bootleg recordings, which the band had always encouraged. In 2006, years after the controversy, Metallica was still subject to ridicule for its actions, even being named #17 on Blender magazine's list of "biggest wusses in rock" for its "anti-Napster crusade".
Since 2003, however, the band, Lars in particular, has warmed up to the digital media age, and has since withdrawn itself from any further actions against any P2P sites. [citation needed]

Newsted's departure, St. Anger

Kirk Hammett (2004)As plans were being made to go into the recording studio in 2001, Newsted left the band, due to as he put it, "the physical damage I have done to myself over the years while playing the music that I love." However, subsequent interviews with Newsted and the remaining members revealed that Newsted's desire to release a CD and tour with his Echobrain side project - and Hetfield's intense resistance to such an idea - was the primary cause of Newsted's departure. Additionally, a Playboy interview revealed that the "hazing" that Newsted received since joining the band had not lessened over time. Finally, Newsted had never shared the songwriting partner status that Burton had enjoyed (in 15 years with the group, Newsted only co-wrote credit on three songs: "Blackened" from ...And Justice For All, "My Friend of Misery" from Metallica and "Where The Wild Things Are" from Re-Load). The 2004 documentary, Some Kind of Monster provided more insight into the reasons for Newsted's departure. In the film he says he felt his former bandmates decision to hire a therapist to help solve their problems was "really fucking lame. And weak."
In July, 2001, Hetfield entered rehab due to "alcoholism and other addictions". For nearly a year, Metallica ceased to function in any meaningful way. Ulrich and Hammett, for the first time, seriously considered the possibility that Metallica might be finished. Hetfield eventually returned to the band following his rehab hiatus and was required to work only four hours a day and spend the rest of his time with his family. Metallica continued slowly as a three-piece throughout the writing and recording of their next album. Longtime producer Bob Rock handled bass duties for the sessions. The making of the album was documented for the movie, "Some Kind of Monster". The film also exposed to fans that Metallica had sought the guidance of a therapist, Phil Towle, to deal with a vast amount of the band's inner turmoil.
Following the album's recording, Metallica held auditions for Newsted's permanent replacement in early 2003. Robert Trujillo formerly of Suicidal Tendencies, and Ozzy Osbourne's band, was chosen as the new bassist. Robert's resume also included Infectious Grooves as well as a stint with Black Label Society on their Boozed, Broozed, and Broken-Boned DVD. As Metallica moved on, Jason Newsted also found a new musical home joining Canadian thrash metal legends Voivod in 2002. In an interesting turn of events, Jason also became Robert's replacement in Ozzy's band during the 2003 Ozzfest tour (which included Voivod as part of the touring bill).
In June 2003, Metallica's eighth full-length recording, St. Anger, debuted at number one on the album charts. Being an intentionally raw and unpolished album, harsh criticism from fans followed. The record's under-produced sound, Hetfield's "flexible" sense of pitch, Ulrich's steely sounding snare, and the absence of any guitar solos received particular criticism. Despite this, the album won the best metal performance at the 2004 Grammys.
Having toured extensively for two years in support of St. Anger on the Summer Sanitarium Tour 2003 in festivals featuring Mudvayne, Deftones, Linkin Park, and Limp Bizkit and then the lengthy Madly in Anger with the World tour with Godsmack (in which nearly every performance was professionally recorded and sold on LiveMetallica.com) Metallica took a break from performing and spent most of 2005 with friends and family, however for two historic shows on November 13, 2005 and November 15, 2005, the band opened for the Rolling Stones at AT&T park in San Francisco.

Recent events, ninth studio album


Robert Trujillo (2004)On February 16, 2006, Metallica announced on their official website that after their 15+ year relationship, longtime producer Bob Rock was stepping down and would not be recording Metallica's next studio album. Rock had produced every Metallica album since 1991. Metallica is currently working on a studio album with legendary producer Rick Rubin who has produced albums for other prominent metal bands such as System Of A Down, Slipknot, Slayer, and Rage Against the Machine.
Metallica debuted an untitled song nicknamed "The New Song" in Berlin, Germany on June 6th, 2006 on the European leg of the Escape from the Studio '06 mini tour. On August 12th, 2006, Metallica debuted another song in Tokyo, Japan on the Asian leg of the tour, nicknamed "The Other New Song". They have also supported the Summer Sonic tour in Tokyo and Osaka, along with Linkin Park.
The band has previously unveiled new songs prior to their release: Four songs from Ride the Lightning ("Fight Fire with Fire", "Ride The Lightning", "Creeping Death", and "The Call Of Ktulu") were performed before the release of the album; Master of Puppets' "Disposable Heroes" was debuted on September 14th of 1985; ...And Justice for All's "Harvester of Sorrow" received its live debut in 1987, Load's "2x4" was played during the Escape from the Studio '95 mini-tour; and Reload's "Fuel" and "Devil's Dance" were played at various points during the Load tour 1996-97 and again during the 3 shows European mini-tour in August 1997 ("The Memory Remains" and "Bad Seed" were teased numerous times at shows throughout 1996 and 1997).
It was during this time on tour that the band finally bowed to fan pressure decided to make each of their albums available at the iTunes Store - though strictly only in the U.S. and Canada until issues with their European label are resolved - allowing individual tracks to be legally downloaded for the first time. Exclusive tracks from the Seattle '89 shows were added to the band's first four albums.
On October 13, 2006 Metallica announced that they would release a DVD containing all their videos from 1989 to 2004. The DVD is called The Videos 1989-2004, and was released on December 4, 2006 worldwide and on December 5 in North America.
On February 9, 2007 Metallica confirmed that pre-production on the new studio album had been completed, and recording of the new album will begin on March 12, 2007. The band also announced that a summer tour was in the early planning stages.